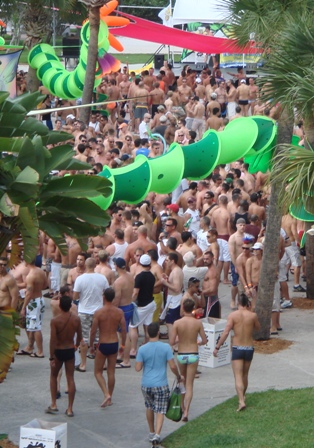 I almost named the title Gay Days WaterSports but some might get the wrong idea so lets just call it pool parties or "Mighty" pool events.
Springtime always goes by so fast that we barely have time to get ready for summer. There is just not enough time for all the preparing for the fun events coming our way. One of the hottest events of the Summer include the Beach Ball at Typhoon Lagoon during the Gay Days at DisneyWorld.
Beach Ball is just one of the number of events held during Gay Days…. I learned of the Reunion Pool Party last year and it was just incredible. So incredible I had to book my hotel stay this year at this resort. The One Mighty Weekend group also plans to offer an expo area similar to the Gay Days host hotel. Check out a write up from last year and some pics to follow: Note that the pics below do not do the pool parties any justice but it gives you not even a tenth of what went on during the daytime…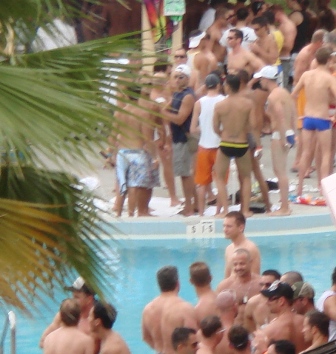 My favorite event of the year was a crazy rain forest of different fun at Typhoon Lagoon. The real Beach Ball. Last year I saw some of the most beautiful bodies on the planet all in one place… and we did this year but it was kind of wet and rainy. The rain kind of made it erotic though because everyone was dripping and no one had to worry about their hair.  It was one big wet no-t-shirt, wet boxer contest.
The wave pool was packed because the water was warm. I do feel bad for the party producers who will deal with the wet lighting and soaked equipment while everyone else is playing in the rain. There must have been thousands and thousands of dollars of lighting outside in the rain — with a dripping wet mirror ball. Yes, a big dripping wet ball above all the dancing boys.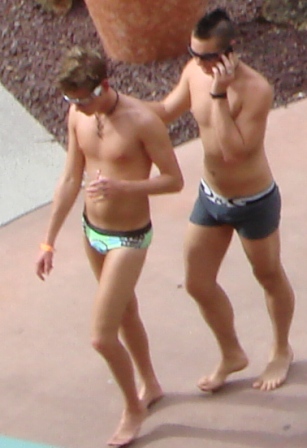 Tropical storm Barry decided to come to Florida and intrude on Gay Days but the sun came out the next day at the pool party. This was my first year of staying at the circuit host hotel (One Mighty Weekend hotel) Buena Vista Palace. I am so impressed by the pool parties here. Johnny Chisholm knows how to do an event and do it right.
We had outside pool concerts with Billie Ray Meyers who sings that song "Kiss the rain" and many others. Even our sister who sings that Cha-Cha heels song (in which I love the Rosabel mix). The pool area is decorated with florescent flowers and fabulous energizing ornaments.  The concerts during the daytime pool parties at Buena Vista were amazing and I hope they have them again in 2008.
Too many pool parties to choose from? Here is a comparison of the pool parties during the Disney Gay Days events:
Fri June 6 – DJ Don Bishop @ Buena Vista Palace12N-6pm / DJ Ronny Boy + DJ Hazmat @ Royal Plaza ($10 / Free admission as hotel guest)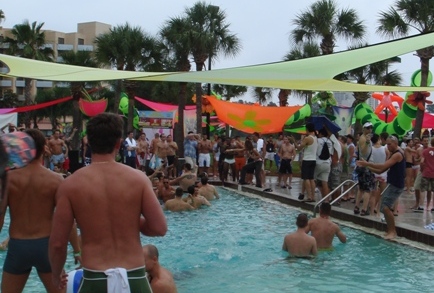 Sat June 7 – DJ David Knapp @ Buena Vista Palace 12N-6pm / DJ Randy Bettis (12N to 6pm) @ Royal Plaza – DJ Juan Rocha 6pm -10pm – DJ Andy Ajar 10pm – 2am
Sun June 8 – DJ Phil B @ Buena Vista Palace 12N-6pm / White Pool Party with DJ Josh Riptide 12N-6pm – DJ Seth Cooper 7pm-2am / Parliament House normally also features a pool party and many model contests Sunday. Or just skip the pool party Sunday and dive in the foam at the P-house. What goes on in the foam stays in the foam..j/k…
You can buy Reunion Pool Party tickets at CircuitTicket.com for $60 for all three parties or purchase the Royal Plaza tickets at GayDays.com. The Parliament House events can be purchased here.