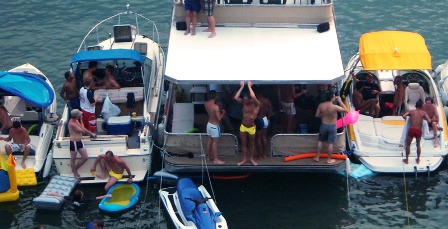 The big weekend is heading this way quick and we have still not decided whether to head to Austin, float rivers, or yet finalized plans for Memorial Day weekend. Last year we went to a new circuit party in Galveston but wanted to do something different this year. The picture to the left is from Lake Travis in Austin on Memorial Day weekend a few years ago. Sorry, no pictures for the Florida beach party yet…
Pensacola is on the top of our minds for the weekend because we have never been and they have a big DJ line up. I am just worried that this town only has one gay club and its ten degrees colder in Pensacola than Austin.
Here is the DJ line up and party info for Pensacola Memorial Day Weekend-
Pensacola Memorial Day starts off Thursday night (May 22) at Emerald City with DJ Jay-R with the ForePlay party. Johnny Chisholm brings back the popular beach party Friday night called Wave from 10pm to 5am with DJ Roland Belmares or the strip off contest at Emerald City. Things get sweaty with DJ David Knapp on Saturday night at the Emerald City club til 3am then afterhours at EC Warehouse until around 8am with DJ Phil B. spinning. Sunday you can see DJ Alyson Calagna spinning Friction at the only gay club Emerald City with afterhours at EC Warehouse again DJ Joe Gauthreaux. The final party is held Memorial Day Monday when it all comes to a "Climax" with DJ Dewight Barkley.