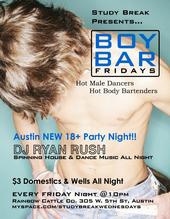 Austin is back up and running with hot boys clubs. It finally has made up for the Boyz Cellar closing down a few years ago. Rain and Oil Can Harry's both have college nights but the Rainbow Cattle Co. is the most exciting from what we hear.
Located at 305 W 5th St. (just a block from the other gay bars) you can find two nights of dancing for the 18 and up college crowd. The Cattle Company used to be a Country & Western bar during these nights but its changed formats to diversify a bit. Wednesday's are study break night where "skin is always in". DJ Ryan Rush playing "NYC Club music" (that could mean anything). I have seen their bartenders and dancers and they are hotties from what I can tell on their site.
Friday night is Boy Bar where they have $3 cheap drinks all night long. The boy on the flyer is hot and you know its Austin with a huge college population going to school at UT so it should bring in a good sized crowd. I am looking forward to checking this out.