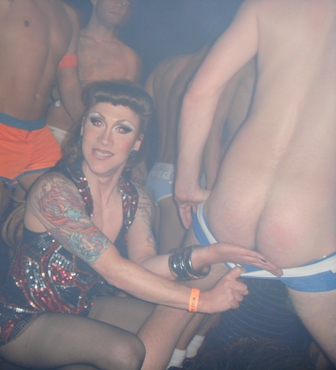 Can we have a bigger bang to bring in the first party weekend of 2009?
What do DJ Irene, Reese Rideout, Amanda Lepore, and Brent Corrigan have in common?  They have all be to Avalon in NYC.  Um no they are all going to be at the biggest party of January 2009 called Temptation.  You know the party that NO ONE has heard of until this week for some reason!!  What the hell.
My friend who works at a resort in Vegas sent me a text about Temptation Parties in Vegas during the GAYVN, AVN, and InterNext expos and we could not understand why this event was not promoted so much farther in advance.  I am sure it will still be a big hit.  I thought that Hustlaball was going to be in Vegas this year even had it on my calendar of events but emailed the Rentboy people and never heard anything back so I figure that they are just doing London instead of Vegas.
So I was totally not planning on going to Vegas this year because I heard of nothing going on then after checking out this Temptevents.com site found out that Krave is hosting some mega-parties.  It all starts this Thursday night at Krave with DJ Junior Vasquez and DJ Billy Steele plus these fine boys: Jeremy Hall, Ceasar, Arpad Miklos, Jesse Zane, CJ Madison, Dean Coxx, Josh Hart, Michael Lee, Paul Pratt, Rad Matthews, Giovanni Summers, Aiden Mychals, Shawn Foxx, Dan Ryan, Dustin Revees.  Ok what about the female performers: Disco Dollie, Miss Conception, Glitz Glam, Daisy D, La Marca, Angel Benton, Reba from La Cage, Sister Sioux St Semen Sloth, Sister Gloria-Areola, and Mother Loosy Lust Bea Lady.
Moving on to the two nights that you cannot miss are Friday and Saturday.  Friday, January 9th is the Trade party with DJ Irene.  I have never seen her perform at a gay club so this will be very exciting.  When I saw her at Avalon in NYC it was a str8 night and the Legendary Lizard Lounge in Dallas it's a straight club.  The entertainment will be  Amanda Lepore from NYC, Daisy Deadpetals of Miami (the most fabulous dj and diva combo of all time), Misty Eyez, and 14 Hot GoGos.  And a bottle of lube in a pear tree… oh wait there is more.
Friday night at Krave also spinning is DJ Jason Lema and getting naughty on stage will be Brent Corrigan
Barrett Long, Brodie Newport, Antonio Milan, Tory Mason, Jason Crew, Dean Coxx, Jesse Zane, Spencer Stone, Josh Hart, Tyler Saint.  I do not think my digital camera can hold this many boys.
Krave Saturday night is a Night of Cox and they do mean Cocks.  DJ Chris Cox (one of our favs and a dance music God) headlines with erotic performances from Reese Rideout, Nelson Troy, Bobby Clark, Seth Clark with "Nude" Aerials and the most infamous drag queen from South Florida T.P. Lords with 12 Hot GoGos at her side.  You know T.P Lords always has some backup dancers working it.