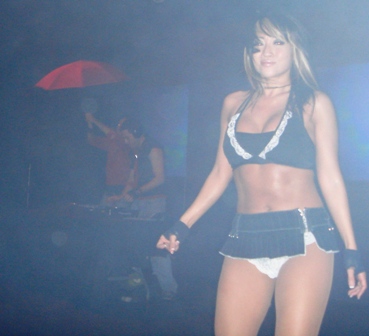 If you have not heard of the Perry Twins yet then you are missing out on some good music. I saw them perform for the first time at Krave Nightclub in Vegas in January and they were so much fun to watch. They not only spin good hot club music (and have good taste in music) but also dance around together doing a show that is entertaining.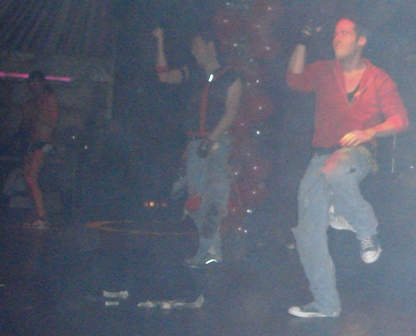 I first found the Perry Twins on Myspace and could not figure out from their site if they were dj's or what… It is really something you have to see in person to understand. I highly recommend going out if they come to a city near you. We had one of the funnest nights dancing to their beats!
Also, check out some pics from the Perry Twins and the hot dancers from Krave that night out. Our camera has issues so it takes sucky pics. You would think that Sony would take better pics than this but yeah it looks like a big foggy mess half of the time.
To the left you can see them performing to the Rihanna 'Umbrella' song. They brought out an umbrella and danced around. The dancers seen are regular Saturday night Krave performers.