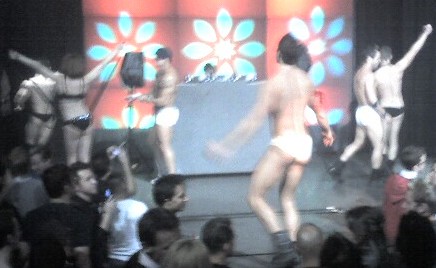 I found out that a true VIP of Vegas is to have a Nevada ID. If traveling to Vegas make sure you get a fake Nevada State ID first since your out-of-state ID may not get you anything but a higher price. I learned the Vegas locals not only get buy 1, get 1 discounts to shows but they also get free cover at clubs and all kinds of benefits. Maybe there is a way to obtain a temporary Nevada ID if you are there more than a few weeks. I doubt the homeland security department would like this much though. =)
If you are from out of town then you are normally the shits out of luck when it comes to specials and reasonable priced admissions to the fruit loop clubs and to Krave nightclub. I was amazed that on a Monday and Thursday night I was asked to pay $20 for admission into Piranha and 8 ½. I looked at the lady and said you must be kidding me right? $20 on a weeknight is insane for someone over 21 who will be giving them even more money on alcoholic beverages. I feel that it could even be $10 or $15 but $20 bucks is insane! Especially for the lack of eye candy in this particular club and the fact the drinks are very small.
Oh, let me also mention that they only take cash at Piranha and 8 ½ so you must have a credit card you can do cash advances on or an ATM card. If you use their barely-working ATM Machine you only can get out up to $100 at a time and get charged $2 each time. If you get any money out at all. Good luck with that.
Tuesdays are Trick Tuesday at Krave where they show love to the pimps and hoes. They give away free porn with DJ Mikey Swift and locals get in free.
Wednesday is the smaller club inside of Krave opened to a wet boxer contest and some go-go boys dancing. It draws in a small crowd but a younger crowd than the guys you may encounter in underwear at The Eagle (3430 E. Tropicana Ave.). The Eagle was fun to drink and prance around sexily in my undies but it was not so pretty watching some of these older men doing the same. It is too bad this does not turn into a college boy party in underwear for free drinking all night long. From 10pm to 3am you do get to drink for free if you walk in nothing but underwear so if you can put up with older guys starring at your huge bulge then go for it!
Thursdays are a big night out at Piranha and 8 ½ where they play hip hop in the front room and gay house music in the back dance floor. There is also Whip It 80's night with $5 Calls/$2 Wells all night at Krave.
Tigerheat night at Krave (3663 S. Las Vegas Blvd.) starts out the Friday night with DJ Ray Rhodes from Hollywood. This club is located just West of the Planet Hollywood Casino and features superstar dj's such as Tony Moran on Saturdays. They are also the club that hosts Hustlaball one of our kinkiest events of the year. Friday night included a live vocal performance at Krave and was relatively slow compared to a Saturday night out.
Of course a Saturday is big in both clubs and Monday's are talent nite out normally at 8 ½ or Goodtimes since it goes along with their day off.
Favorite Bartender in Vegas: Nick Starr, Krave Nightclub – this straight boy is hot eye candy and can make fast cocktails for us Kraved alcoholics.
Top 5 Gay Places to Stay in Vegas:
1. Blue Moon Resort – a few blocks from the strip but you will be pampered like a gay king.
2. Paris Hotel & Casino Las Vegas – owned by Harrah's who is highly GLBT employed
3. Planet Hollywood – next door to Krave nightclub
4. Luxor- Be sure and visit the Spa.
5. Alexis Park Suites – located on Harmon on the fruit loop