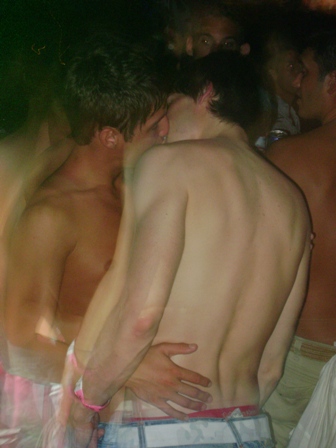 If there is a real gay spring break then this is it even though it's a few days away from the start of Hurricane season and the beginning of summer.
There is no overhype in how crazy and fun the annual Pensacola Beach party is every year. I was opposed to going thinking it was just another circuit event so close to GayDays not knowing what was really on the beaches. I found out that this event is still too close to the big GayDays event but it's definitely worth it. For those of us that do not live in Florida its lots of traveling and I don't regret any minute of it.
We showed up into town and checked into our hotel early or tried to. Ended up with a sunburn from being at the beach waiting on our room at the Hilton Pensacola Beach. We had a few drinks at some crab bar next to the building next to the Hampton. I think they were having a girl's party there with oil wrestling. The coolest staff and bartenders for a str8 bar.
Then it was on the Emerald City for Friday night to hear the local dj and DJ Roland Belmares. The Wave party was originally scheduled for Friday night but got moved to Saturday since it was storming outside a bit. The weather was perfect the entire time in the daytime by the way.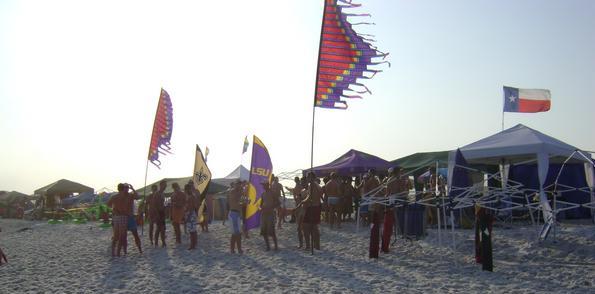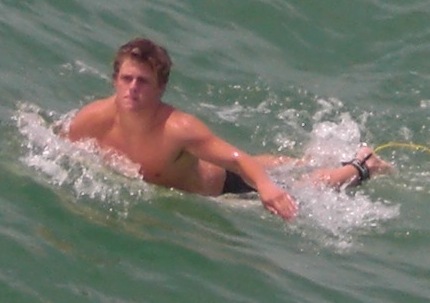 Emerald City which has been remodeled was awesome. Fun stages to dance on, cages that was crazy with people doing flips and doing all kinds of grinding. You get tired of dancing then just go out on the patio. You have to watch out for the anti-gay people outside picketing the event but they were shut down by the gay-love people protesting them which worked out rather well. Did they not see the church on the beach?
Some friends we knew out told us about this gay beach with thousands of people camping out and that was down the beach from our hotel. We didn't really believe them because they were talking about a Betty Ford Clinic and a Cross tent and all this crazy stuff. I was like yeah right…
We drove the next day from the Hilton to the gay beach just past the Portofino resort. We were just in amazement at how many people were out there camped out in tents and walking around on the beach. Thousands of gays and lesbians from North Carolina, Atlanta, Mobile, New Orleans, Nashville, and Dallas.
There really was a Betty Ford Tent and a tent with a huge light up cross. It almost reminded me of this camp we go to called Willowswish but on the beach. It was heaven and I want to go back now.
MemorialWeekendPensacola.com lists some DJs and some hotels but not really mentioning the true spirit of the events. It lists some hotels but this year there was no official host hotel. The Hampton Inn played the role of busing people from the main beach to the Wave circuit event. That event was $70 and many complained about the price but it was every penny worth it. Amazing music from David Knapp and lighting was just incredible.
The guys that did the lighting at the Wave event put people in amazement several times. DJ David Knapp played the new Rihanna song "Take A Bow" which fit in perfect after some of her other tunes such as Umbrella. I heard the Madonna song 4 minutes but none of the other great Madonna songs. Music was great though. He played some remix of Mariah Carey that was the best I have ever heard. Gymnasts were doing flips and dancing in the sand not as part of the show but just there to party.
Their was an Alien performance by AnnaRexia with hung looking aliens dancing around with a few female dancers. Also, the second performance with Bianca Del Rio from Oz in New Orleans. She had one of the hottest back up dancers.
Sunday night was also packed and lively at Emerald City. There was a party after Emerald City that Sunday at a club called MySpace (yes, MySpace) and it was not real crowded and the music was so deep it put me to sleep. Maybe I was just tired from the extreme fun I had all weekend and I was sad that the weekend was ending so fast.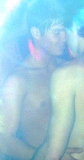 There are only a few negatives to the party. It being so close to gaydays, so many things going on Memorial Day weekend, and the jellyfish. I have been to beaches forever and never been stung by so many jellyfish. But who cares we are drinking and don't really feel them too much anyway. You also have to watch out for the speed traps in this town. Pensacola and Pensacola Beach areas were giving tickets left and right and speed zone is 30 mph most of the way over the long bridge and up to 35 in some areas.
If you plan on going next year make sure you stay close the gay beach at the Portofino at the end of Via De Luna (portofinoisland.com). The Crown Plaza is next door to the big gay club in town called Emerald City which is a club you do not want to miss.
The Hampton Inn also seemed like lots of boys were staying there. Their may have been a discount from the Johnny Chisholm group for that hotel but I was not aware of it.
A website to help plan the weekend I found helpful is this site pensacolabeach08.com. Lots of good pics and a DVD of the party on the beach.